[twocol_one]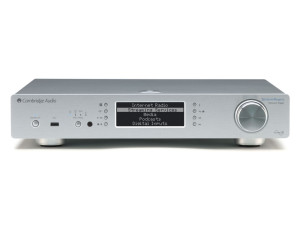 [/twocol_one] [twocol_one_last]
Wherever your digital audio comes from, whatever format you store it in, the Stream Magic 6 network music player makes it sound stunning! From smartphones/tablets and laptops, to Blu-ray players, TVs and games consoles, and with support for audio streaming services including BBC iPlayer, Aupeo, and Pandora plus with access to over 20,000+ internet radio stations – the Stream Magic 6 doesn't just stream audio on to your hi-fi amp and speakers, but dramatically improves it as it does – bringing out the ultimate in detail, clarity and quality from your digital audio.
Key to this is our unique ATF2 upsampling. Everything passing through the Stream Magic 6 is upsampled to highest-quality 24-bit 384 kHz with jitter and other digital audio issues eliminated. The result is stunning – we guarantee you'll be impressed!
And the Stream Magic 6 is compatible with all major digital audio formats – including MP3, AAC and WMA, as well as "lossless" high-quality audio formats such as Apple Lossless, FLAC and AIFF.
[box type="download" icon="none" size="large"]
Price: $999
[/box] [/twocol_one_last]