[twocol_one]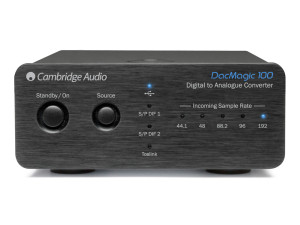 [/twocol_one] [twocol_one_last]
Get awesome quality music from your computer, TV and other digital devices
DacMagic 100 is an amazing compact device which extracts real hi-fi sound from a host of gadgets including Blu-ray players, Apple Macs, PCs, TVs and set-top boxes.
DacMagic 100 works by taking a direct digital audio signal from your device – before its own soundcard or DAC can do this. It digitally processes the audio signal using our custom designed technology, dramatically improving sound quality and reducing distortion. The results you will hear include greater detail, sparkling clarity and a real sense of scale and drama.
So no matter where your digital audio stream comes from, DacMagic 100 will transport you closer to your music, TV and movies than ever before.
[box type="download" icon="none" size="large"]
Price: $369
[/box] [/twocol_one_last]