[twocol_one]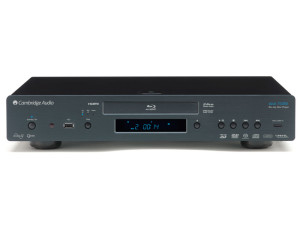 Our best ever universal player gets the very most from video and audio discs, digital files and streaming
One box to do it all and do it all brilliantly – the ultimate universal player is here! No matter what format you have your video and audio in, the Azur 752BD universal player will bring it to life in your living room.
Of course, it's a universal disc player – it spins just about every disc format from Blu-ray (and BD-3D) to DVD, CD, SACD and many more. But that's not all. The 752BD also plays just about every digital file you can throw at it, and accesses network streaming services too. And whether they're stored or streamed, the 752BD will bring digital files into sparkling high-definition detail too.
From memory sticks and portable hard drives, smartphones and tablets, or via set-top boxes and games consoles, the 752BD brings digital music and video to your living room in stunning detail. And it can access drives, laptops and desktop machines via wi-fi/ethernet. Plus there's inbuilt support for internet streaming services such as YouTube and Picasa.
Every source – digital, networked or analogue – and every format, whether audio or video, stereo or surround sound – also benefits from the 752BD's high-end video and audio processing powers. Its Marvell Qdeo video processor upscales any video source to Full HD and can perform realtime 2D-to-3D conversion. It can even upscale to 4K resolution, if your TV or projector supports this new ultra-high-definition format.
Meanwhile, audio is boosted by five Wolfson audio DACs (digital-to-analogue convertors) to 24-bit/192kHz highest-quality format to satisfy audiophiles.
The result is all video and audio that passes through the 752BD is delivered in stunning detail.
[/twocol_one] [twocol_one_last]
Azur 752BD Universal Upsampling Blu-ray, DVD & CD player
No matter what you want to play, whether it's movies in surround sound or pure stereo music, and no matter what format it arrives in – the Cambridge Audio 752BD Universal Blu-ray Player will deliver the best results you've ever seen and heard. One box really does it all, and does it all brilliantly…
[box type="download" icon="none" size="large"]
Price: $1,199
[/box] [/twocol_one_last]