[twocol_one]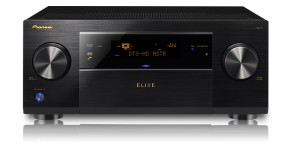 Amplification Home
When it comes to value, the new SC-71 is your best-priced ticket for a receiver that delivers the power and finesse of Class D3 amplification. If you're serious about music and cinema, this feature-rich AV receiver offers Elite's advanced connectivity and cutting-edge digital power in our most affordable Class D3 receiver. Welcome to the future of Elite home theater.
The Elite Connection—You and Your iPad®, iPhone® and iPod®
The SC-71 is right at home with Apple® devices, thanks to Made for iPod touch, iPhone, and iPad certification. Your Apple handheld device easily connects easily connects your normal charging cable—without the need for a dock. Truly plug-and-play, the SC-71 charges your Apple device too. You can even enjoy music enhanced with album art for a complete iTunes® experience.
[/twocol_one] [twocol_one_last]
AirPlay® is Easy with Elite
By partnering with Apple, Pioneer Elite receivers offer effortless AirPlay connectivity through Apple devices like iPhone, iPad and iPod. Network share your music with DLNA® and Windows 8®, stream your favorite music straight from your PC or Mac® with Pandora®, or listen to a world of content with vTuner Internet Radio.
The SC-71 offers convenience up front, with a USB port that accepts a memory audio device—in seconds—for music or photos. And of course, this Elite receiver is Bluetooth®- and WiFi-ready with Pioneer's optional AS-BT200 Bluetooth adapter and AS-WL-300 WiFi adapter.
And talk about uninterrupted entertainment. Listen to your favorite music in your car using your iPhone, leave your car mid-song and walk into your home. Using the AirPlay App on your iPhone, select the SC-71: it powers up automatically and continues right where you left off. Not only that, the SC-71 supports network audio sources in Zone 2, allowing you to send music to another room. With AirPlay, there's really no reason why your iTunes music has to be restricted to your computer.
[box type="download" icon="none" size="large"]
Price: $1000.00
[/box] [/twocol_one_last]