[twocol_one]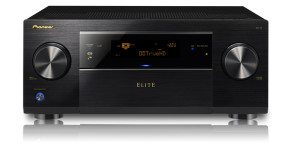 The Pioneer Elite SC-72 AV Receiver. Class D3 Power and Connectivity That's Custom-Install Friendly
The new SC-72 receiver is perfect for custom home entertainment installations. Its robust aluminum front panel and insulated dual chassis houses the power and finesse of Class D3 amplification. This fully equipped AV receiver delivers Elite's advanced connectivity in a multi-zone receiver with features to match its performance.
Designed for Today's Lifestyle—Connecting You with Your iPad®, iPhone® and iPod®
The SC-72 is right at home with Apple® devices, thanks to Made for iPod touch, iPhone, and iPad certification. Easily connected with your normal charging cable, your Apple handheld device connects without the need for a dock. And with the SC-72, plug-and-play has never been easier, because it charges your Apple device too. You can even enjoy music enhanced with album art, enhancing the iTunes® experience.
[/twocol_one] [twocol_one_last]
When you receive a call, your iPhone will mute the music so you can talk. Use the iPhone directly, or push a single button on the SC-72's front panel to switch control to the included preset remote and an intuitive, full-color GUI.
Elite Makes AirPlay® Easy
Pioneer's partnership with Apple means you enjoy effortless AirPlay connectivity through Apple devices like iPhone, iPad and iPod. Network share your music with DLNA® and Windows 8®, stream your favorite artists straight from your PC or Mac® with Pandora®, or listen to a world of content with vTuner® Internet Radio.
Up front, plug a memory audio device into the USB port—in seconds—for music or photos. And of course, this Elite receiver is Bluetooth®- and WiFi-ready with Pioneer's optional AS-BT200 Bluetooth adapter and AS-WL-300 WiFi adapter.
[box type="download" icon="none" size="large"]
Price: $1300.00
[/box] [/twocol_one_last]