[twocol_one]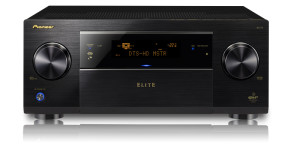 Take Your Realism Further
For those who demand the very best in home entertainment, we introduce the Elite SC-79 AV Receiver, featuring state-of-the-art Class D3 amplifiers. The SC-79 delivers incredible fidelity, effortless connectivity, advanced multi-zone features and immense power. Audiophiles, get ready for the ultimate immersive experience.
Call it Audio Muscle — Class D3 Amplification
Rated at 140 Watts x 9 channels (8 Ohms, 1kHz, 0.08% THD), the SC-79 is one of the most powerful multi-channel AV receiver we've ever built. While lesser amplifiers' output diminishes as channels are added, the SC-79 has the power to drive multiple channels simultaneously with no significant drop in per-channel output. This ensures that you'll enjoy the full impact and dynamic range of high-resolution multi-channel audio as never before. Plus, the power consumption of the Digital Class D3 Amplifier is well below that of conventional Class AB amplifiers, helping you to save energy, too.
[/twocol_one] [twocol_one_last]
Simply Stunning. High-Definition Audio with THX® Ultra2 Plus
The SC-79 is THX® Ultra2 Plus Certified, offering startling surround sound in rooms up to 3,000 cubic feet in size with a 12 foot or greater viewing distance from the screen. The SC-79 also supports high-definition audio formats like Dolby® TrueHD and DTS-HD® Master Audio, as well as DTS® Neo:X surround, providing a 3-D surround experience for up to 9.2 channels.
[box type="download" icon="none" size="large"]
Price: $3000.00
[/box] [/twocol_one_last]