[twocol_one]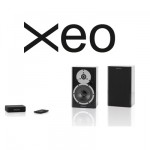 Xeo is the most hip way to listen to music. And Xeo minimizes the system to the essentials: The audio source and the speakers. The amplifier is integrated into Xeo, so you no longer need speaker cables; hook-up is automatic.
A Xeo system is comprised of a pair of the compact Xeo 3 or floorstanding Xeo 5 loudspeakers, a Xeo remote control, and the Xeo transmitter. The wireless speakers and transmitter connect digitally via a radio signal. Up to four individual sources may be connected to the Xeo transmitter, which sends the audio signal to the wireless receiver in the Xeo speakers.
[/twocol_one] [twocol_one_last]
Any analogue or digital music source can be used: Hi-fi system preamp, flat screen TV, computer, laptop, smartphone, tablet, CD player, network player, streaming player, DVD/Blu-ray, tuner, turntable, docking station and much more. And the best news is: With Dynaudio sound quality every and any music source sounds better than you could ever imagine!
[box type="download" icon="none" size="large"]
Price: $2300.00
[/box] [/twocol_one_last]