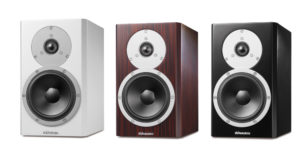 MSRP $ 1,999
The new Excite X14A is the ideal active loud- speaker speaker for smart, modern audio systems. All one needs is to connect a volume-controlled audio source. The X14A utilizes a bi-amped con guration to achieve the best result: One
50 watt digital ampli er powers the bass/midrange driver while a second 50 watt digital ampli er powers the tweeter. An Excite X14A two-channel setup thus yields a highly capable 2 x 100 watt stereo system. Dynaudio has integrated the
most advanced digital power amp modules and sophisticated DSP technology to complement
the high quality soft dome tweeter and MSP (magnesium silicate polymer) long-throw woofer.
A rear-ported bass-re ex design further improves bass performance.
The Excite X14A features three equalization switches that allow one to ne-tune the sonic
performance even further, for example when placing the speaker near a wall, corner, or free standing. The bass, midrange and treble can each be indi- vidually adjusted in three levels. The high-pass lter (60 or 80 Hz) allows one to optionally combine the Excite X14A with a subwoofer.
The rear panel features two analogue inputs to choose from, one RCA and one XLR. The input sensitivity can be individually adjusted in three levels.
The musical quality will be immediately apparent upon rst listen: Clear and open, yet perfectly balanced and re ned, with an impressively deep and tight bass performance for a loudspeaker
this size. Sound staging and imaging between the two speakers is excellent thanks to the meticulous DSP ne tuning and optimization of the digital ampli cation.