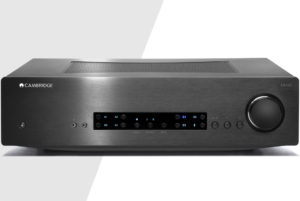 MSRP : $799
The CXA60 delivers a truly foot tapping experience for any listener of any music. It offers all the analogue and digital connections you could need and then thanks to countless hours of tweaking and tuning, it then amplifies any source with a warm low end, meticulous detail and plenty of power in reserve.
OUR MOST ENERGETIC SOUND YET
Designing the CXA60 was a challenge that was accepted with open arms by our engineers. We wanted an amp that sounded more musical and energetic than anything we've made before. They beavered away for months and after some particularly late nights they eventually nailed it. To achieve this they used some unique engineering techniques, some very premium components, and some great ears for detail.
LISTEN TO YOUR MUSIC AT ITS BEST
We've used an audiophile-grade toroidal transformer which helps minimise magnetic flux levels. This basically keeps distortion and other noise levels low so that your music is played back with complete purity. We also centrally mount the transformer to reduce interference with other components in the circuit board such as the volume pot; this is in a further effort to keep your music sounding amazing. As for the volume pot itself, we've used an ALPs film type volume pot which delivers accurate volume control and superb low level channel balance so the volume is always perfectly controlled across both left and right channels at whatever volume you're enjoying.