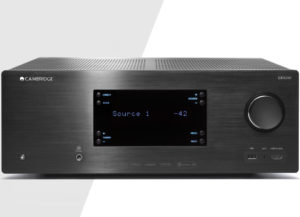 MSRP : $2,999
The CXR200 is your complete home cinema hub. It brings together all of our hi-fi expertise for a powerful, immersive home cinema experience like no other. We also designed it from the ground up to be the heart of your digital set-up, so it's got the same award winning Cambridge Audio StreamMagic streaming module found in our CXN network music player. It's an audiophile's hi-fi, a movie buff's AVR, and a music lover's digital streamer – all in one box.
CAMBRIDGE SOUND
We created the CXRs with the same premise as any of our other hi-fi products – with amazing sound at the core of their design. Through class AB amplification the CXR200 delivers extremely low noise and distortion levels and is rated at 200 Watts in stereo mode or 120 Watts with all seven channels driven. The power supply is via a low flux audiophile-grade toroidal transformer with a substantially extruded heat sink; the result is that the CXR200 delivers smooth seamless sound with incredible precision. You no longer need two separate systems for your music and movies, the 200 will bring power and energy to anything you put through it.
STUNNING VISUALS
Complementing the audio prowess, its visual performance is second to none. HDMI connections are 2.0 rated (apart from the MHL inputs which are 1.4), and support 4K and 3D standards, and the CXR200 will upscale all 1080p signals to 4K ultra high definition. With Deep Colour support too, the perfect picture is guaranteed with vivid colours and lifelike detail.