Description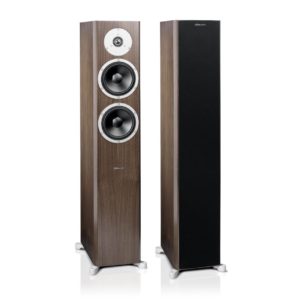 Slim line design that fascinates with a distinguished presentation: The Excite X34 is an elegant, high end, oor standing loudspeaker, whose sheer sonic output and incredibly three-dimensional soundstage belies its modest dimensions.
The X34 is a particularly discreet loudspeaker, measuring less than 95 cm tall and only 17 cm wide, but its dual MSP mid/woofers, coated soft dome tweeter and special dispersion character convey an unmistakably high-end sound quality. With its extremely lightweight aluminium voice coils, greater driver membrane radiating area, and larger enclosure volume than a compact speaker, it can
produce a deep, powerful bass response even in spacious rooms. Precise ne-tuning of the cross- over yields an optimized dispersion, which further enables an incredibly accurate, three-dimensional presentation of the recording. The X34 is also extremely ampli er-friendly due to its 8 Ohm impedance.
The exquisitely nished cabinet includes a cloth grille secured by concealed magnets, and features a particularly smart base construction: on hard- wood oors, the X34 can stand on four resonance absorbing feet, while four adjustable integrated spikes may be used to achieve a perfect foundation on carpeted surfaces.