Description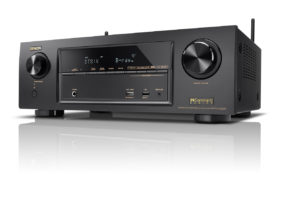 7.2 Channel Full 4K Ultra HD Network A/V Receiver with Wi-Fi and Bluetooth
Overview
Experience state-of-the-art surround sound with the AVR-X1300W 7.2 channel Dolby Atmos AV receiver, which delivers breathtaking immersive surround sound with today's advanced movie soundtracks. Bring home the same revolutionary 3D surround sound used in premium movie theatres, with the ability to create an overhead soundfield to deliver a dramatically expanded sonic space. What's more, a future firmware update will enable the AVR-X1300W to decode DTS:X soundtracks, for full compatibility with all current 3D sound formats.
The AVR-X1300W is futureproof, too, thanks to an advanced video section fully compatible with the latest HDMI 2.0a and HDCP 2.2 specifications on all six of its HDMI inputs. With 4K Ultra HD 60Hz video, 4:4:4 Pure Color sub-sampling, High Dynamic Range (HDR) and 21:9 video, 3D, and BT.2020 pass-through support on every input, the AVR-X1300W is ready for the next generation of Blu-ray disc players, set-top boxes and other 4K Ultra HD sources.
And it has the sonic firepower to deliver cinema-sized thrills: the powerful amplifier section features discrete high current output devices on all seven channels, each of which is configured identically and rated at 80 watts per channel (8 ohms, 0.08%THD, 20Hz~20kHz). That generous current also means the AVR-X1300W has the ability to drive even lower impedance 4ohm speakers on all channels.
Meanwhile the AVR-X1300W's built-in multiroom capability you can enjoy two different sources in different rooms at the same time, so you could watch a movie in superb surround sound in one room while another member of the family enjoys great-sounding music in another part of the house.
Full wireless connectivity is provided by both Wi-Fi and Bluetooth, with dual antennas to ensure robust signal transmission and reception, and you can stream your favourite music through AirPlay, or from Spotify Connect or local network storage drives. High-resolution audio playback, all the way up to 192kHz/24bit and DSD5.6, delivers incredible fidelity.
Using the AVR-X1300W is simple, too: the brand-new "Denon 2016 AVR Remote" app is available from the Apple app store, Google Play, and the Amazon appstore, allowing you to control the receiver from your smartphone or tablet.