Description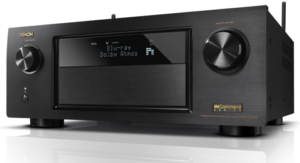 7.2 Channel Full 4K Ultra HD Network A/V Receiver with Wi-Fi and Bluetooth
Overview
Immerse yourself in thrilling 3D surround sound with the Denon AVR-X4200W A/V receiver, which features Dolby Atmos surround decoding for the ultimate home theater listening experience with today's blockbuster soundtracks. And, via a firmware update, the AVR-X4200W will be able to decode forthcoming DTS:X immersive surround soundtracks. Both Dolby Atmos and DTS:X feature object-based surround sound with the ability to drive overhead speakers to deliver the ultimate immersive 3D audio experience. Featuring an advanced video processing and switching section, the AVR-X4200W features full 4K Ultra HD connectivity and HDCP 2.2 compliance.
Equipped with built-in Wi-Fi and Bluetooth with dual diversity antennas, the AVR-X4200W lets you listen to your favorite music from streaming services including Pandora, SiriusXM and Spotify Connect, and you can listen to any of thousands of internet radio stations. You can also stream your favorite tracks wirelessly from your iPhone, iPod touch and iPad via AirPlay.
The powerful amplifier section features discrete high current output devices on all channels, and all amp channels are configured identically. Rated at 125 watts per channel(8 ohms, 0.05%THD, 20Hz~20kHz), the AVR-X4200W has the ability to drive lower impedance 4 ohm speakers on all channels.