Description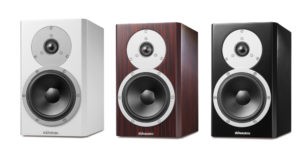 Ultra-compact but undeniably high-end: The Excite X14 brings an extraordinary level of sophistication and re nement to the compact loudspeaker category.
The X14 is the most compact Excite model, yet delivers true high-end sound quality to any system by virtue of its long-excursion mid/woofer, re ned soft dome tweeter and rst-class crossover compo- nents. The exquisite sonic balance, underscored by an unbelievably deep, fast and perfectly controlled bass response is a rarity in this price class.
A Dynaudio specialty plays a major role: extremely lightweight aluminium voice coils and exceptionally
large, powerful magnet systems are utilized in the X14 tweeters and mid/woofers. The music signal reproduced is graced with incredible precision, dynamics and accuracy. Moreover, the X14 is easy to drive with a wide range of ampli ers due to the amp-friendly 8 Ohm impedance.
The beautifully crafted cabinet is equally re ned: ex- quisite natural wood or satin lacquer nishes ennoble the rigid, solid enclosure while the minimal distance between tweeter and mid/woofer serves to improve timing and phase. The Dynaudio Stand 3X and Stand 6 speaker stands, SF1 speaker feet, and assorted wall mount brackets are perfect accesso- ries available for optimizing placement of the X14.