Description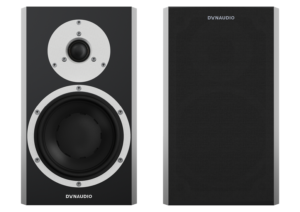 The Excite X18 is a relatively compact bookshelf loudspeaker with a substantial sound and formi- dable power, continuing the longstanding Dynaudio tradition of excellent compact loudspeaker designs. Positioned above the revered X14 model, the new, larger X18 excels with great dynamic range, extend- ing deeper in the bass while delivering an expansive soundstage with exceptional accuracy and a most natural tonal balance.
Powerful bass despite a compact cabinet volume. The rst class Esotec+ woofer with black Kapton voice coil former and extremely powerful magnet system yields a highly neutral sonic character with
re ned midrange detail and powerful, accurate bass reproduction. The state-of-the-art Esotec+ soft dome tweeter with precision coating and an especially strong magnet achieves the most de- tailed resolution and an expressive, well-balanced, and incredibly re ned high frequency playback.
Impressive performance capabilities, highlighted by its detailed high frequency resolution, incredible transparency, powerful dynamics and remarkably deep bass extension make the X18 ideal for small to medium sized rooms and simply one of the nest compact loudspeakers Dynaudio has ever developed.